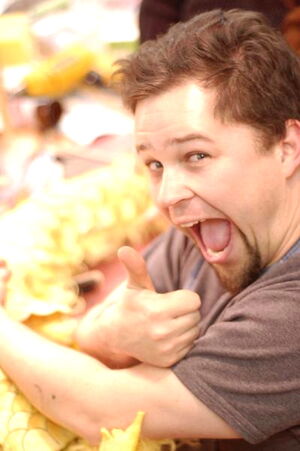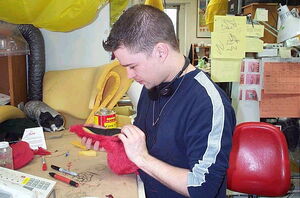 Michael Schupbach has worked as a puppet builder, designer, and wrangler on Bear in the Big Blue House and Sesame Street. Beginning his Muppet career as an assistant during the first season of Bear in the Big Blue House, Schupbach soon moved to Sesame Street, where he became on-set puppet supervisor, a member of the NY Muppet Workshop, and an occasional background Muppeteer.
His post Muppet credits include making puppets for Greg the Bunny, Puppet Planet, and building puppets for Avenue Q.
Schupbach is also one of the creators of Johnny and the Sprites, where he also serves as character designer, conceptual designer, and puppeteer.
In 2008, Schupbach created a plush toy, Konjoined Kitty, which is sold in "urban vinyl" stores.
Credits
Non-Henson credits
Avenue Q: Built for the Off-Broadway, Broadway, Vegas, and London productions, as well as several Avenue Q themed gifts and charity items.
Johnny and the Sprites: Co-creator, character and set designer.
Greg the Bunny: Built the Wumpus for Independent Film Channel airings.
External links