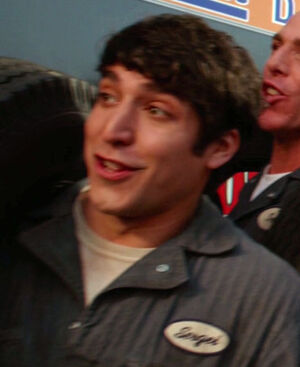 Michael Riccio is a dancer who served as assistant choreographer to Michael Rooney on the 2011 film The Muppets. He also appeared, uncredited, as a Smalltown mechanic (named Sergei, according to his jumpsuit) performing in "Life's a Happy Song." He also assistant choreographed and appeared with the Muppets on Dancing with the Stars on November 15, 2011.
Riccio has had a recurring (albeit uncredited) role on Glee as one of the dancing members of Vocal Adrenaline, from 2008 until 2010. He also appeared (credited) in Glee: The 3D Concert Movie. Other credits include episodes of Eli Stone, the movies Dance Flick and Confessions of a Teenage Drama Queen, and dance reference for the computer animated film Shrek Forever After.
External links
Ad blocker interference detected!
Wikia is a free-to-use site that makes money from advertising. We have a modified experience for viewers using ad blockers

Wikia is not accessible if you've made further modifications. Remove the custom ad blocker rule(s) and the page will load as expected.