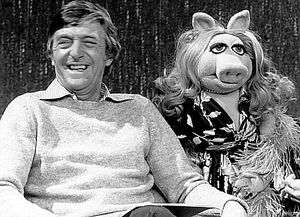 Michael Parkinson (b. 1935) is host of the British talk show Parkinson. During his 1979 interview with Miss Piggy, he professed an undying love for her, even going so far as to show off his bare legs.
He briefly took over as the host of the BBC's Desert Island Discs, from 1985 (following the death of creator/host Roy Plomley) until 1988.
Ad blocker interference detected!
Wikia is a free-to-use site that makes money from advertising. We have a modified experience for viewers using ad blockers

Wikia is not accessible if you've made further modifications. Remove the custom ad blocker rule(s) and the page will load as expected.