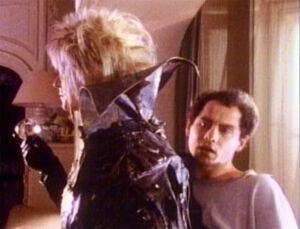 Michael Moschen is one of the world's leading jugglers. He received a Fellowship from the MacArthur Foundation in 1990, and has appeared on TV on PBS. He is particularly known for contact juggling. In Labyrinth the crystal ball manipulations seen to be performed by David Bowie's character were actually performed by Moschen who stood behind Bowie during filming.
Moschen has also appeared on Sesame Street.
External links
Ad blocker interference detected!
Wikia is a free-to-use site that makes money from advertising. We have a modified experience for viewers using ad blockers

Wikia is not accessible if you've made further modifications. Remove the custom ad blocker rule(s) and the page will load as expected.