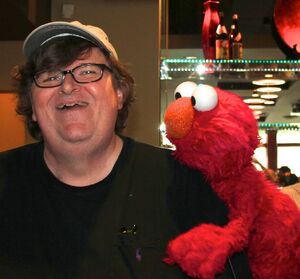 Michael Moore (b. 1954) is an American filmmaker, author, social critic and activist. He is the director and producer of such films as Fahrenheit 9/11, Bowling for Columbine and Sicko. He has also written and starred in the TV shows TV Nation and The Awful Truth.
Moore appeared with Elmo at the Traverse City Film Festival in 2011.
Ad blocker interference detected!
Wikia is a free-to-use site that makes money from advertising. We have a modified experience for viewers using ad blockers

Wikia is not accessible if you've made further modifications. Remove the custom ad blocker rule(s) and the page will load as expected.