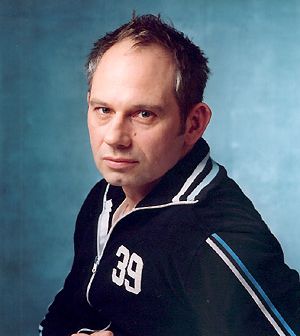 Michael Lott (b. 1964) is a German voice actor who took over as the voice of Oskar der Griesgram (Oscar the Grouch) on Sesamstrasse, after the death of Gottfried Kramer. He went on to dub Oscar in Elmo rettet Weihnachten (Elmo Saves Christmas) and outside guest appearances on Scrubs and in Night at the Museum 2.
Born in Hamburg, Lott has been an active member of the city's dubbing industry. He is the primary German voice of Swedish actor Michael Nyqvist, French actor Vincent Lindon, and James Nesbitt (in The Hobbit movies, Jekyll, and other projects). He dubbed Michael Chiklis in The Fantastic Four movies, Jon Hamm in Friends with Kids, and Steven Mackintosh in The Sweeney. In audio books, he voices the lead role in the Mark Brandis science fiction series.
On-camera, Lott has made multiple appearances on Tatort and appeared in the TV movie Operation Valkyrie (with Hardy Krüger Jr. and Olli Dittrich) and the 2013 English-language film The Physician (with Ben Kingsley and Makram Khoury).
External links