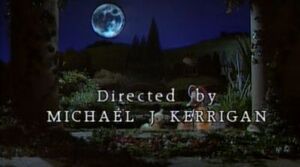 Michael Kerrigan (1952-2014), sometimes credited as Michael J. Kerrigan, was a British television director. He directed all thirteen Mother Goose Stories episodes for the second production series.
When re-packaged for the Disney Channel, they were mixed with episodes directed by Brian Henson for the other two seasons. Kerrigan and Henson won and shared a Daytime Emmy Award for Outstanding Directing in a Children's Series. Kerrigan later directed episodes of The Secret Life of Toys.
Kerrigan directed the 1989 Doctor Who serial "Battlefield" (guest starring Jean Marsh) and years later directed episodes of The Sarah Jane Adventures in 2008. Much of his career was spent in children's television, beginning with the storytelling series Jackanory (1977-1982), The Baker Street Boys (1983, chronicling the urchins who formed Sherlock Holmes' Baker Street Irregulars), the 1995 series version of The Famous Five, The Phoenix and the Magic Carpet , and The Basil Brush Show. He also directed the host material and new footage for several packages of Saturday or weekday morning shows, under titles such as No. 73 (TVS) and Parallel 9 (with a scifie theme) and Smile for the BBC. More adult fare included episodes of the soap opera EastEnders in 1990, The Bill, Emmerdale, and Coronation Street.
Directing credits
Mother Goose Stories

"Eenie Meenie"
"The Crooked Man"
"Eensy Weensy Spider"
"Hector Protector"
"Mary's Little Lamb"
"Duke of York"
"Pat-a-Cake"
"Jack Be Nimble"
"Willie Winkie"
"Man in the Moon"
"Jack & Jill"
External links