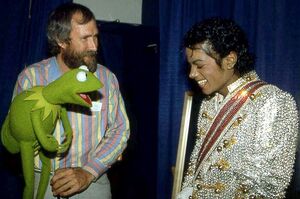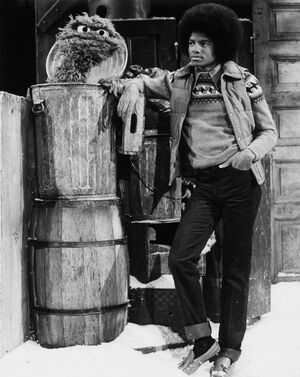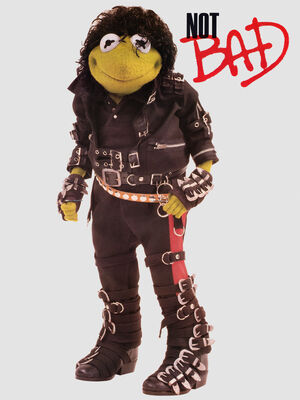 Michael Jackson (1958-2009) was an internationally known pop star who came to prominence first as the youngest member of the Jackson 5 and later as a solo artist whose album Thriller (1982) remains the best selling album of all time.
Jackson appeared briefly in the 1978 TV special A Special Sesame Street Christmas, giving Oscar the Grouch a book about ghosts.
Jackson purchased the Beatles' music catalog from ATV in 1985; thanks to his purchase, a lawsuit against Sesame Workshop was dropped.[1]
During pre-production on Labyrinth, Jackson was one of several musicians considered for the role of Jareth.[2]
References
Muppet Mentions
A picture of Jackson with Jim Henson and Kermit the Frog is featured in his 1988 autobiography, Moon Walk. This picture was shown during the "Michael Jackson Public Memorial Service", held in Los Angeles at the Staples Center; the broadcast was aired internationally, to an estimated audience of 1 billion people.
The documentary, Living with Michael Jackson features a Kermit the Frog pill box as part of Jackson's collection.
Sources
↑ Chris Cerf at a book signing for Street Gang, 1/5/09 [1]
External links