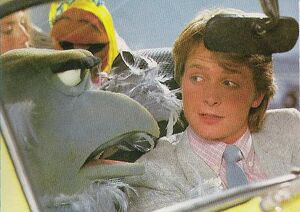 Michael J. Fox (b. 1961) became famous for playing the role of Alex P. Keaton on the television series Family Ties. He later starred in Teen Wolf and the Back to the Future trilogy before returning to television with Spin City. Diagnosed with Parkinson's disease in 1991, he has now turned his attention from acting to activism.
Fox was interviewed in 1985 for Muppet Magazine issue 9, along with his Family Ties costars Justine Bateman and Tina Yothers. He also performed the voice of the CG character Stuart Little in the 2002 movie Stuart Little 2, which included puppet effects by the Creature Shop.
References
Sources
External links
Ad blocker interference detected!
Wikia is a free-to-use site that makes money from advertising. We have a modified experience for viewers using ad blockers

Wikia is not accessible if you've made further modifications. Remove the custom ad blocker rule(s) and the page will load as expected.