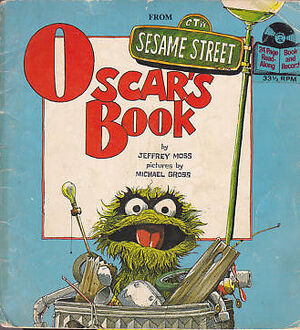 Michael Gross (1945-2015), sometimes credited as Michael C. Gross, was an art director, graphic designer, and illustrator who later became a Hollywood producer. He illustrated the 1975Sesame Street book Oscar's Book and did cover art for 1972's Sesame Street Songbook Vol. 1 (depicting instruments on the steps of 123 Sesame Street), reused on Sesame Street Songbook Vol. 2.
The illustrations came out of Gross's work for Henson Associates in the seventies, as a partner in the design firm Pellegrini, Kaestle, & Gross (with Mari Kaestle's husband David). The firm designed the "HA!" logo and worked on print projects.[1]
Gross was art director for National Lampoon from 1970 until 1974, including designing the famous "If You Don't Buy This Magazine, We'll Kill This Dog" cover. Gross went on to work for the magazine Heavy Metal, illustrating comic stories and then serving as production designer and associate producer for the 1981 film, working with Ivan Reitman.
After stints working with Lampoon alumni by doing graphics on SCTV and uncredited work on National Lampoon's Vacation (designing the Walley World moose, the car, and other elements[1]), Gross worked with Reitman again on Ghostbusters. Gross again served as associate producer and also designed the Ghostbusters "No Ghosts" logo. He received executive producer credit on Ghostbusters II and the animated series, and on subsequent Reitman-directed or produced films (including Twins, Kindergarten Cop, and Beethoven). Gross retired from Hollywood in 1995 and returned to painting and other art endeavors.
Sources
↑ 1.0 1.1 The Comics Journal - Michael Gross interview, March 13 2015
External links