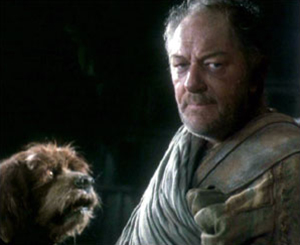 Michael Gambon (b. 1940) played the role of the Storyteller in The StoryTeller: Greek Myths. He also provided the voice of the Ultragorgon in The Jim Henson Hour episode "Monster Maker."
In 2001, Gambon played Sir William McCordle in Gosford Park, a film which included digital effects by Jim Henson's Creature Shop.
In the last few years, Gambon has become well-known for taking over the role of Albus Dumbledore in the Harry Potter films.
External Links
Ad blocker interference detected!
Wikia is a free-to-use site that makes money from advertising. We have a modified experience for viewers using ad blockers

Wikia is not accessible if you've made further modifications. Remove the custom ad blocker rule(s) and the page will load as expected.