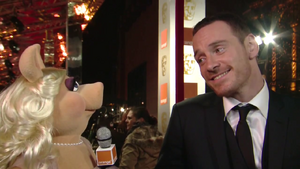 Michael Fassbender (b. 1977) is an Irish-German actor.
At the 2012 BAFTA Awards, he talked with Miss Piggy on her red carpet show for Orange Film about his film Shame.
In an interview together with Kermit and Academy of Motion Picture Arts and Sciences president Tom Sherak, Miss Piggy remarked that she had seen Shame twelve times and that "[Fassbender] deserved something... I'm not sure what... is there a category for that?" The frog and Sherak insisted on staying quiet on the issue.[1]
Sources
↑ EW Online - Oscars 2012: Kermit and Miss Piggy on their acting snubs (and Michael Fassbender's -- Piggy is a fan) by Mandi Bierly (2012-02-24)
Ad blocker interference detected!
Wikia is a free-to-use site that makes money from advertising. We have a modified experience for viewers using ad blockers

Wikia is not accessible if you've made further modifications. Remove the custom ad blocker rule(s) and the page will load as expected.