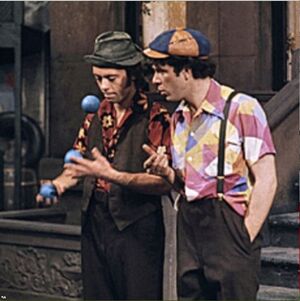 Michael Christensen (b. 1947) and Paul Binder (b. 1942) are a juggling/clown duo and the co-founders of the Big Apple Circus.
The duo made several appearances on Sesame Street in season 9.
Sketches
Oscar's bowling alley
Michael and Paul are hired to set up Oscar's bowling alley. (EKA: Episode 1136)
Paul's Finger Licking Chicken Fricassee
Michael tries to cook dinner, but Paul keeps on juggling the ingredients. (EKA: Episode 1093)
Inserts: Numbers 7-12
Ad blocker interference detected!
Wikia is a free-to-use site that makes money from advertising. We have a modified experience for viewers using ad blockers

Wikia is not accessible if you've made further modifications. Remove the custom ad blocker rule(s) and the page will load as expected.