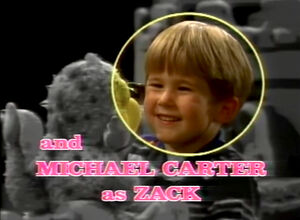 Michael Carter (b. 1981), later credited as Michael Patrick Carter or M. P. Carter, was a child actor who played 6-year-old Zack in the 1987 pilot Puppetman.
He appeared regularly on the Western Paradise as George Carroll from 1988 to 1991, receiving three Young Artist Award nominations for Best Young Actor Under Nine. He also guest starred on Quantum Leap and Legend.
Carter's film credits include Child's Play (voicing a commercial character), Milk Money, and Black Sheep.
External links
Ad blocker interference detected!
Wikia is a free-to-use site that makes money from advertising. We have a modified experience for viewers using ad blockers

Wikia is not accessible if you've made further modifications. Remove the custom ad blocker rule(s) and the page will load as expected.