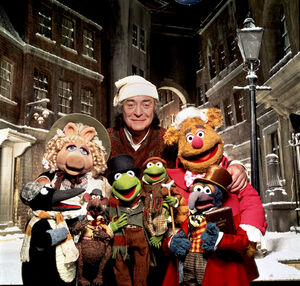 Sir Michael Caine (b. 1933) is an Academy Award-winning actor of stage and screen.
His film highlights include Alfie, A Bridge Too Far, Beyond the Poseidon Adventure, Jaws: The Revenge, Deathtrap, Noises Off, Dirty Rotten Scoundrels, Batman Begins, The Cider House Rules and Hannah and Her Sisters (the latter two for which he won Oscars).
In 1992, he portrayed Ebenezer Scrooge in The Muppet Christmas Carol. Following the production, a caricature puppet was made in his likeness by the Muppet Workshop, and presented to him as a gift.
Caine also appeared Victor "Vic" Spansky in the 1996 film Blood and Wine, which included an animatronic shark created by Jim Henson's Creature Shop.
In 2011, he voiced Finn McMissile in Pixar's Cars 2.
External links