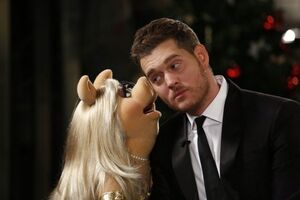 Michael Bublé's Christmas in New York is the fourth Christmas special featuring Michael Bublé, airing on NBC on December 17, 2014. Miss Piggy appeared as a special guest, along with Barbra Streisand, Ariana Grande, and the Rockettes.
Miss Piggy appeared with Bublé in several backstage bits from her dressing room, and sang the song "Baby, It's Cold Outside" in duet with Bublé.
See also
Ad blocker interference detected!
Wikia is a free-to-use site that makes money from advertising. We have a modified experience for viewers using ad blockers

Wikia is not accessible if you've made further modifications. Remove the custom ad blocker rule(s) and the page will load as expected.