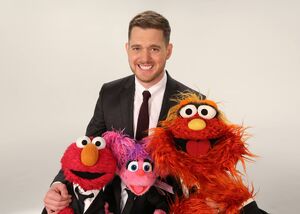 Michael Bublé (b. 1975) is a Canadian singer who has won multiple Grammy Awards and is best known for both his original songs and covers of songs from the American songbook, including "Fever," "I've Got You Under My Skin," and "The Best Is Yet to Come."
Bublé's first four Christmas specials have featured a Muppet character as a guest-star; Oscar the Grouch in 2011, Elmo in 2012, Cookie Monster in 2013, and Miss Piggy in 2014.
Bublé appeared in a season 45 episode of Sesame Street, performing the classic song "Believe In Yourself."
External links