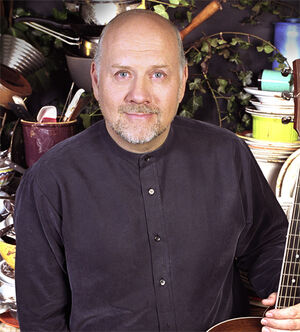 The singer-songwriter/actor Michael Boesen voiced Bear (Bjørn) in Bjørnen i det Blå Hus , the Danish dub of Bear in the Big Blue House.
His songwriter credits goes back to the old danish protest group from the 70's called Røde mor. He is properly best known as Overkaj from the group 5*Kaj that was a household name in Denmark during the 80's, the group even made a movie. One of the groups best known song is Alle børnene... a song based on a series of jokes, some more rude than others. "Alle børnene kiggede ned i blenderen, undtagen Bob han kiggede op" (All the children looked down the blender, except Bob he looked up), "Alle børnene spiste hestebøf, undtagen Connie, det var hendes pony." (All the children ate horse steak, except Connie it was her pony). All the jokes have a few things in commen they are violent and they rime, at least in danish.
He have dubbed over 200 cartoons and puppet shows.
External links