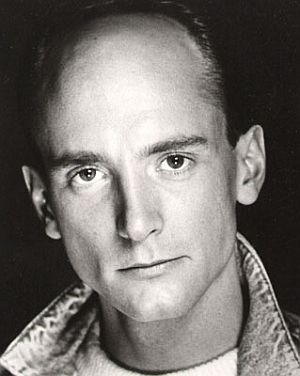 Michael Bayliss is a British actor and puppeteer (sometimes credited as Mike Bayliss) who has worked on several Jim Henson Company projects over the years. His other puppeteering credits include Frank Oz' "Little Shop of Horrors" and manipulating props held by animated characters in "Who Framed Roger Rabbit?" As well as his film and television work he has an extensive background in theatre, touring nationally and internationally, including 30 productions with the world renowned Little Angel Theatre. He has operated Audrey II in the stage version of "Little Shop of Horrors" and in 2004 made his debut with The Royal Shakespeare Company, creating the role of Adonis in "Venus & Adonis" to great acclaim. He played Andre Novak in over 100 episodes of the radio series "Conway Street" and, in 2011, returned to his musical theatre roots playing the lead role of Emile in "South Pacific". He has also appeared as Benjamin Guggenheim in "Titanic" (twice) Biggs / Obi Wan Kenobi in "The Boy Who Loved Star Wars", Grandpa Joe in "Charlie & The Chocolate Factory" and, most recently, Herman in "Sweet Charity". As a designer, he has created costumes, scenery and puppets for many stage and television productions. He also presents a regular entertainment round up for 93.7 Express FM.
Henson/Muppet Credits
Non-Henson Credits
Whatever Happened to Harry Hill?  Gareth Southgate Badger (puppeteer)
Tony Robinson's Gods & Monsters  Pagan Priest (actor)
Seed of Chucky  Chucky / Tiffany / Glen (puppeteer)
Little Shop of Horrors  Audrey II (Lip-sync crew)
Who Framed Roger Rabbit?  Physical FX
Shining Through  Street Performer / Puppeteer (actor/puppeteer)
It Couldn't Happen Here  Ventriloquist Dummy (puppeteer)
The Mighty Boosh  Sammy The Crab (puppeteer)
The Harry Hill Show - 3 Series  Gareth Southgate Badger (puppeteer)
Wizadora - 5 Series  Hangle / Topp / Filbert (co-ordinating puppeteer)
Mortimer & Arabel - 2 Series  Mortimer / Bill (puppeteer)
The Rottentrolls - 4 Series  Penyghent / Sigsworthy (puppeteer)
Spitting Image - 4 Series (puppeteer)
The Parkies  Tim (presenter)
MacDonald's Farm  Woof Woof (puppeteer)
The Slow Norris  Walter / Ali (puppeteer)
The Roly Mo Show  Roly Mo (assistant/swing puppeteer)
The Fimbles (assistant/swing puppeteer)
The Magic House  Uncle Teapot (puppeteer)
Dr. Xargle  Rebel / Swotty (puppeteer)
Ad blocker interference detected!
Wikia is a free-to-use site that makes money from advertising. We have a modified experience for viewers using ad blockers

Wikia is not accessible if you've made further modifications. Remove the custom ad blocker rule(s) and the page will load as expected.