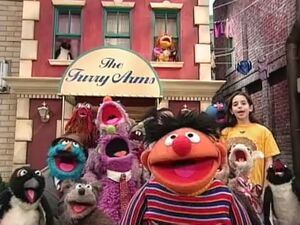 Michael Abbott is a composer who has written song music for Sesame Street and home video projects beginning in the 1990s, as well as the theme songs to Big Bag and Bert and Ernie's Great Adventures.
Apart from Sesame Street, Abbott wrote music for the songs in the 1988 film Puss in Boots (with Christopher Walken). He composed songs for Winnie the Pooh albums and the direct-to-video feature Pooh's Grand Adventure: The Search for Christopher Robin. He also wrote music for Mary-Kate and Ashley Olsen.
Songs
Ad blocker interference detected!
Wikia is a free-to-use site that makes money from advertising. We have a modified experience for viewers using ad blockers

Wikia is not accessible if you've made further modifications. Remove the custom ad blocker rule(s) and the page will load as expected.