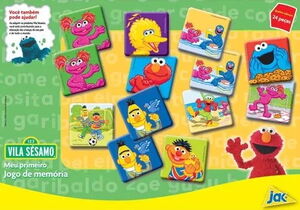 Meu primeiro Jogo de memória (My First Memory Game) is a game produced by Toyster in 2008, based on Vila Sésamo, the Brazilian co-production of Sesame Street.
The game contains 12 pairs of matching cards, decorated with Sesame Street and Vila Sésamo characters -- including Bel, Garibaldo (Big Bird), Ênio (Ernie), Beto (Bert), Come-Come (Cookie Monster), Elmo and Grover.
Ad blocker interference detected!
Wikia is a free-to-use site that makes money from advertising. We have a modified experience for viewers using ad blockers

Wikia is not accessible if you've made further modifications. Remove the custom ad blocker rule(s) and the page will load as expected.