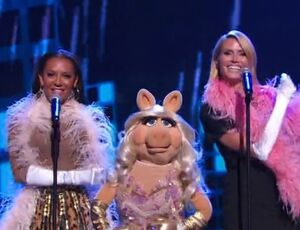 Melanie Janine Brown (b. 1975), better known as Mel B, is a British pop star who gained fame as Scary Spice in the pop group Spice Girls.
In September 2014, as one of the judges on America's Got Talent, she sang "It's Raining Men" with Miss Piggy and Heidi Klum. The number begins as a sketch in Piggy's dressing room where the three "divas" imagine how great it would be to perform together. Mel B and Klum lose interest when Piggy suggests they sing backup, but the song plays out with the three singing together in a dream sequence anyway.
Ad blocker interference detected!
Wikia is a free-to-use site that makes money from advertising. We have a modified experience for viewers using ad blockers

Wikia is not accessible if you've made further modifications. Remove the custom ad blocker rule(s) and the page will load as expected.