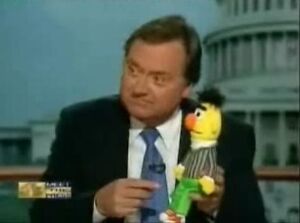 Meet the Press is the long-running television interview program, focused on current affairs and poltics, which has aired on NBC since 1947, moving to Sunday daytimes in 1965. Nearly every major politicial figure in the United States of America has been interviewed on the series, as
Muppet Mentions
In the October 21, 2007 episode of Meet the Press, moderator Tim Russert interviewed Stephen Colbert regarding his run for the presidency. Russert asked Colbert why he pronounces his name "Col-bare" as opposed to "Col-bert," and brought out a Bert doll to help illustrate the difference.
After Russert's death in June 2008, this segment was used on The Colbert Report as part of a tribute to the journalist.
References
In Sesame Street Episode 1257 from 1979, Olivia asks Telly Monster (in his TV-obsessed debut) to name some M words. He rattles off several TV shows and personalities, including Meet the Press.
Connections