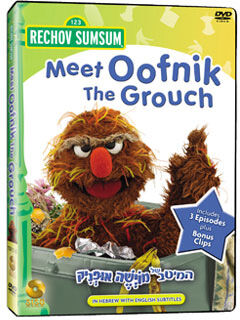 Release Date
2008
Produced by
Sesame Workshop
SISU Home Entertainment
Format
DVD
Discs
1
Region
1
Meet Oofnik the Grouch is a 60-minute Rechov Sumsum video featuring Moishe Oofnik, the Israeli version of Oscar the Grouch. The video is presented in Hebrew, but the DVD includes English subtitles.
The program includes three episodes: "Karambula," "The Dwarf and the Giant" and "What to Do When You're Angry," in which Oofnik teaches young viewers how to calm down when they're anxious or upset. Oofnik entertains and educates as he tries to get along with his fellow Israeli puppets Avigile, Brosh, Noah, and Mahboud; and their human friends Gili, Tzachi, Irina, Gershon and Ibtisam.
Starring: Moishe Oofnik
Guest appearances by: Israel "Poli" Poliakov
DVD features
Sneak Peek of Shalom Sesame programs
Bonus Oofnik video clips
Preview of the program
Dolby Digital Sound
Full Screen (4x3)
External links