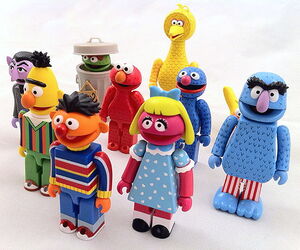 Kubricks are articulated plastic figures produced by the Japanese toy company Medicom. The figures have interchangable body parts and very basic geometric body sculpts, similar to LEGO figures. They're packaged in "blind boxes", so the purchaser can't see which toy is in the package.
Medicom produced three sets of Sesame Street Kubricks between 2003 and 2006. The sets are listed below, with the number of figures packed in each case of 24. Figures with lower numbers are rarer.
Series 1 (2003)
Series 2 (2004)
Series 3 (2006)
Elmo color variations: Red, black, white, brown, pink, green, blue.
Oscar the Grouch color variations: Green, orange, black, pink, brown, turquoise, white.
See also
Ad blocker interference detected!
Wikia is a free-to-use site that makes money from advertising. We have a modified experience for viewers using ad blockers

Wikia is not accessible if you've made further modifications. Remove the custom ad blocker rule(s) and the page will load as expected.