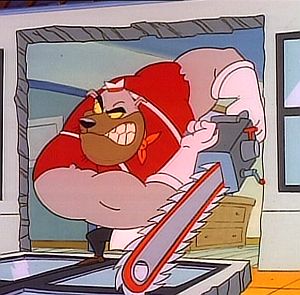 Meat the Butcher first appeared on Dog City as the titular antagonist in episode 103. The hulking Meat is an enormous bulldog clad in a butcher's apron and wielding cleavers and other sharp knives. Created by Eliot Shag in response to his boss's request for more violence, the Butcher is a purely psychopathic hitman.
Meat returned for a gag cameo in "The Dog Pound," whimpering like a puppy, and accompanied fellow guest villains Screwy Louie and Puppy-Face Felson in a brief scene from "Out of the Mouths of Pups."
Ad blocker interference detected!
Wikia is a free-to-use site that makes money from advertising. We have a modified experience for viewers using ad blockers

Wikia is not accessible if you've made further modifications. Remove the custom ad blocker rule(s) and the page will load as expected.