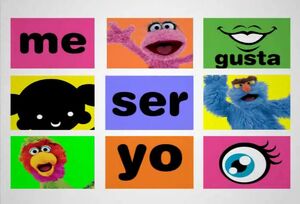 | | |
| --- | --- |
| Release Date | 2005 |
| Produced by | Ventura Entertainment |
| Catalogue no. | 28162-7 |
| Format | DVD |
| Discs | 1 |
| Region | 1 |
| ASIN | |
Me Gusta Ser Yo (I Like to Be Me) is a Plaza Sésamo video released in 2005. In the video, Lola and Pancho visit Pablo Bigotasso's art gallery and learn about the parts of the body and what makes them unique. The framing sequence borrows scenes from two episodes from the late 90's.
Releases
Picture
Segment
Description




FRAME 1
Pancho, Lola and a girl are visiting the studio of Pablo Bigotasso, famed artist. They notice all the paintings of faces he has. Lola finds a very life-like painting of Pablo, but no one else believes its' real.

Animation
At night, a spider swings through a museum to observe the art.
(EKA: Episodio 812)

Song
"Face Facts"
(EKA: Episodio 826)

Muppets
Grover sometimes imagines what it would be like if he had a very small nose, a nose so large that the weight of it knocked him over, or the trunk of an elephant. After his nose returns to normal, he wonders why he has a craving for peanuts.
(EKA: Episodio 798)

Cartoon
Parts of a face are drawn in black on-screen before forming a picture.

Muppets
Monsterpiece Theater: "Anyone's Nose"
A monster sings a song about various noses and what they do.

Cartoon
A poem about the different kinds of noses.
Edited from a Consonant Sound Poem.
(EKA: Episodio 826)

FRAME 2
They group now observes another of Pablo's works of art: a nose in a frame above a pot of flowers. Pancho replaces the flowers with an onion, and the nose suddenly has a clothes pin covering it. The painting of Pablo then sneezes, exposing him.

Cartoon
A man is drawn without a nose and demands his creator makes one, but gets a series of animal noses.
(EKA: Episodio 798)

Muppets
"The Sneeze Song," with Kathleen the Cow with a Pig, a Sheep, and Fred the Wonder Horse.

Animation
Various people brush their teeth to a classical piece of music.
(EKA: Episodio 801)




Insert
After Dienton finishes his meal, he gets icky gunk all over his teeth. Manuel and Daniela teach him how to brush his teeth.
(First: Episodio 801)

Cartoon
A girl looses her first baby tooth.
Artist: ArtistMike

FRAME 3
Pablo prepares to paint the trio's heads. But, he can't decide on the pose. They move their heads around so much that Pancho gets dizzy and faints.

Cartoon
Jake the Snake demonstrates body parts.
(EKA: Episodio 758)

Animation
Arrows give a presentation of the human body.
(EKA: Episodio 744)

Muppets
Mr. Johnson comes to Grover's photo studio to have his portrait taken. However, Grover photographs his foot and hand instead, and has to be reminded to capture the face.
(EKA: Episodio 801)

Cartoon
A girl talks about her skin.
Artist: Bruce Cayard
(EKA: Episodio 749)




Insert
Hazlo Tu Mismo
Abelardo and the kids show the different things they use to brush their hair with.
(First: Episodio 811)

Cartoon
Superkid brushes his hair.
(EKA: Episodio 811)

Film
"Mi Pelo"
(EKA: Episodio 748)

Muppets
Grover attempts to sell Mr. Johnson a wig, but when he finally finds one that suits him, it turns out to be a guinea pig.
(EKA: Episodio 811)

Film
A mime enlarges his body parts.
(EKA: Episodio 874)

Insert
Maria, Abelardo, Lola and Pancho sing about hands.
(First: Episodio 835)

Muppets
Elmo plays ball with his plant Gloria, when Big Bird comes by and tries to explain that Gloria can't play ball, as they have nor arms or hands to catch it with. Elmo tries playing checkers with Gloria instead.

Animation
A girl claps her hands to a rhythm and a boy tries to copy it.
(EKA: Episodio 804)

Muppets
Rosita and Snuffy talk about arms.
(EKA: Episodio 796)

Song
"Elbows and Knees"
(EKA: Episodio 796)

Muppets
Snuffy tells Rosita that although he has no arms, his snuffle can act like one.
(EKA: Episodio 829)

Cartoon
A boy is drawn, but he doesn't have knees at first.
(EKA: Episodio 820)

FRAME 4
Pablo is now going to paint the group's feet and demonstrates what they can do by having them mimick various exercises. He tells them to ride a bike, but they can't do that while standing, so they stand on their heads and pedel their feet in the air.

Song
"Get On Up and Move Your Body"
(EKA: Episodio 799)
Ad blocker interference detected!
Wikia is a free-to-use site that makes money from advertising. We have a modified experience for viewers using ad blockers

Wikia is not accessible if you've made further modifications. Remove the custom ad blocker rule(s) and the page will load as expected.