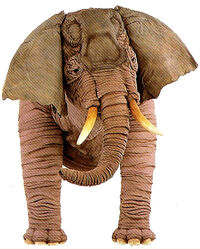 Maxine the Indian Elephant is a character in The Animal Show.
She appeared in the episode "Indian Elephant & Human" where she tells Stinky the Skunk and Jake the Polar Bear on how Indian Elephants work with humans. Later on in the show, she and Dave the Human sing a duet song revolving around teamwork.
Maxine resembles the puppet that was used for Ringo the Elephant except with smaller ears and a different color.