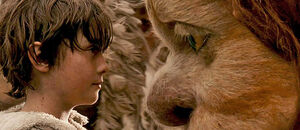 Max Records (b. 1997) is a child actor who played Max in the 2009 Creature Shop film Where the Wild Things Are.
His earlier experiences in film include the role of young Stephen in the film The Brothers Bloom, and a minor role in Directions: The Plans Video Album.
Ad blocker interference detected!
Wikia is a free-to-use site that makes money from advertising. We have a modified experience for viewers using ad blockers

Wikia is not accessible if you've made further modifications. Remove the custom ad blocker rule(s) and the page will load as expected.