Max Headroom
Talk

0
26,341pages on
this wiki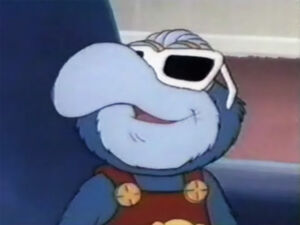 Max Headroom is a character, portrayed by Matt Frewer and designed to resemble a computer-generated figure, who originated in a 1985 British music video show. Headroom became ubiquitous in pop culture for a time, appearing in Coca-Cola commercials and in his own 1987 television series, also called Max Headroom.
Appearances
In 1987, Max Headroom appeared on Sesame Street, reciting the alphabet in an insert. (EKA: Episode 2478)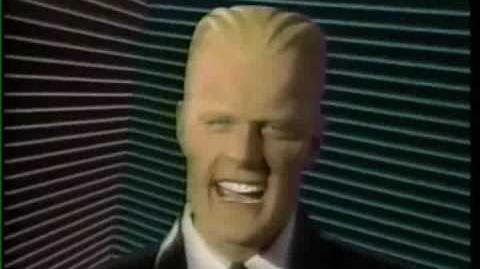 References
In the Muppet Babies episode "This Little Piggy Went to Hollywood," Baby Gonzo does a Max Headroom impression and says that he's the weirdest guy on TV.
At the end of the mini-game "Beaker's Brain" on the 1996 CD-Rom game Muppets Inside, one of Bunsen's closing speeches turns into a digital jumble of Max Headroom-esque gobbledygook. Whether this "plunder" came up accidentally in some copies of the game or was just an intended parody (reminiscent of Andy Kaufman fiddling with the vertical hold in his TV specials) remains to be seen.