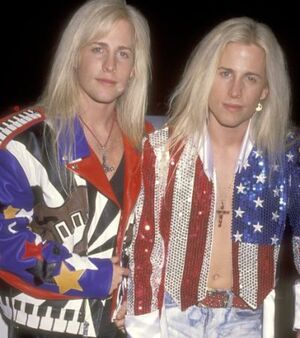 Matthew and Gunnar Nelson (b. 1967), twin sons of Ricky Nelson, are singers, songwriters, and guitarists, most often performing under the band name Nelson. Their 1990 debut album After the Rain featured "(Can't Live Without Your) Love and Affection" which became a number one hit. In 1995, they performed as musicians on the Muppet album Kermit Unpigged. They also had a cameo in the music video for "She Drives Me Crazy" as a promotion for the same album.
In recent years, the Nelsons have performed outside of the Nelson label, including their tribute Ricky Nelson Remembered and as part of Scrap Metal (composed of various 80s and 90s rockers).
External links
Ad blocker interference detected!
Wikia is a free-to-use site that makes money from advertising. We have a modified experience for viewers using ad blockers

Wikia is not accessible if you've made further modifications. Remove the custom ad blocker rule(s) and the page will load as expected.