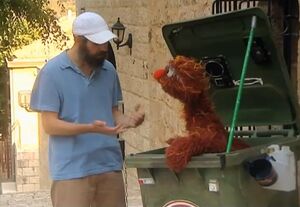 Matisyahu (b. 1979), real name Matthew Paul Miller, is a Jewish reggae musician.
He appears in the Shalom Sesame episode, "Mitzvah on the Street", teaching Moishe Oofnik how to beatbox and performing a duet of "Hava Nagila." Moishe is unaware of his celebrity status, until he spots a poster of him by his can right after he leaves for a concert.
Ad blocker interference detected!
Wikia is a free-to-use site that makes money from advertising. We have a modified experience for viewers using ad blockers

Wikia is not accessible if you've made further modifications. Remove the custom ad blocker rule(s) and the page will load as expected.