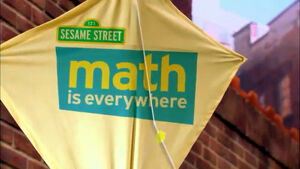 Math Is Everywhere is a Sesame Street educational resource video released by Sesame Workshop in September 2010 designed to build children's awareness of math in their daily lives.
In the video, Abby Cadabby loses her wand and looks all over the street for it. She adds and subtracts bats with The Count, who tells her math is all around her. She later meets up with Telly and Ralphie, who show her that diagonally cutting a square sandwich makes two triangles. In the park, Rosita and Elmo show her a "Wiggle Wiggle Hop" dance, which involves patterns. Abby finally finds her wand in a flower pot and joins her friends in singing about the wonders of math.

Credits
Executive Producer: Christina Delfico
Co-Executive Producer: Kevin Clash
Producer: Maureen Schultz
Writer: Carin Greenberg
Director: Kevin Clash
Starring the Muppets of Sesame Street
External links
Ad blocker interference detected!
Wikia is a free-to-use site that makes money from advertising. We have a modified experience for viewers using ad blockers

Wikia is not accessible if you've made further modifications. Remove the custom ad blocker rule(s) and the page will load as expected.