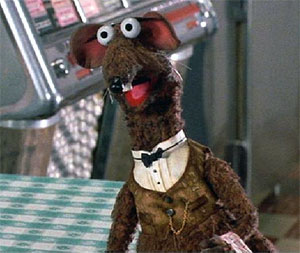 Masterson Rat works in Pete's Luncheonette with fellow rats Rizzo, Chester, Tatooey, and Yolanda in The Muppets Take Manhattan.
Masterson, who is rather genteel, first appeared when he and the other rats showed up in Pete's kitchen and asked him for a job. He was featured in the musical number "Rat Scat (Something's Cookin')." He is seen cutting some butter, and in the next shot tries butter skating, which ends when he spins so much he burns his feet.
He is later seen flirting with Brooke Shields before the second mail scene.
He later surfaced, with other rats, in The Muppet Christmas Carol and Muppets Classic Theater.