Ad blocker interference detected!
Wikia is a free-to-use site that makes money from advertising. We have a modified experience for viewers using ad blockers

Wikia is not accessible if you've made further modifications. Remove the custom ad blocker rule(s) and the page will load as expected.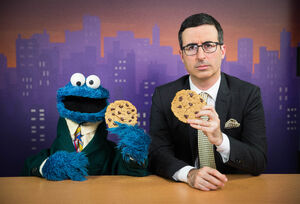 Mashable is a website covering technology and social media founded in 2005. The website's primary focus is social media news, but it also covers news and developments in mobile, entertainment, online video, business, web development, technology, memes and gadgets. Mashable has partnered with Sesame Workshop to produce several web videos and articles.
Appearances
April 3, 2014 — Telly Monster appeared in an episode of #5Facts presenting "5 Hidden Worlds Revealed Under a Microscope." (Video)
October 2014 — Grover and Kid President appeared in a series of web video co-produced by Mashable to promote #Socktober. The first video was posted on October 10th via Kid President's YouTube channel on SoulPancake.com; a blooper reel was also released by Mashable the same day. (Videos) The second video (also featuring Guy Smiley and Bert) was posted on October 16th via Sesame Street's YouTube channel. Video