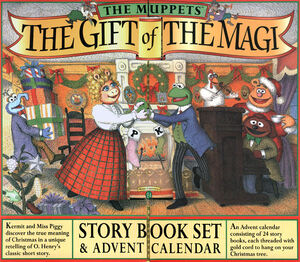 Mary Packard is a children's book author who wrote the 1996 Muppet book The Gift of the Magi Story Book Set & Advent Calendar. She has written several advent calendar/book sets since the early 1990s, including The Nutcracker, The Story of Christmas, and A Christmas Carol.
Packard also wrote the 1986 Fraggle Rock book The Great Fraggle Travel Race and the 1997 Big Bag book Chelli Can Share. She has also written children's nature books, Ripley's Believe it or Not books, and licensed titles featuring Winnie the Pooh, Mickey Mouse, Little People, and Barbie.
Ad blocker interference detected!
Wikia is a free-to-use site that makes money from advertising. We have a modified experience for viewers using ad blockers

Wikia is not accessible if you've made further modifications. Remove the custom ad blocker rule(s) and the page will load as expected.