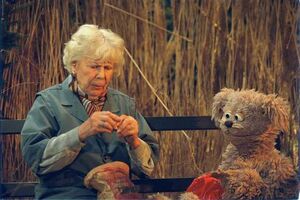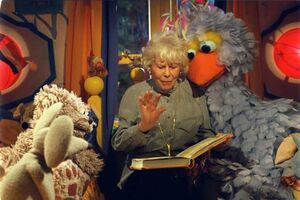 Marie Johanna (Mary) Dresselhuys (Utrecht, 22 januari 1907 – Amsterdam, 19 mei 2004) was a Dutch actress, who played over 500 parts on stage, movies and television in her long career.
Dresselhuys appears in the Sesamstraat anniversary special broadcast on February 11, 2001. In the episode, she sits on the bench and has a chat with Tommie. At the end of the show, she reads a bedtime story to Tommie, Ieniemienie and Pino about Liselotje.
In 1988 Paul Haenen pays a visit at Mary Dresselhuys'home for a depth interview in his program Paul Haenen vraagt Mary Dresselhuys.
Ad blocker interference detected!
Wikia is a free-to-use site that makes money from advertising. We have a modified experience for viewers using ad blockers

Wikia is not accessible if you've made further modifications. Remove the custom ad blocker rule(s) and the page will load as expected.