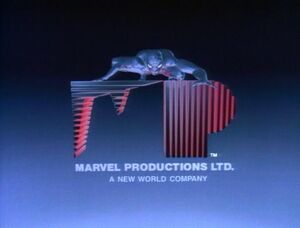 Marvel Productions was an animation studio, formed in 1981 when DePatie-Freleng Enterprises (creator of The Pink Panther) was sold to Marvel Comics. The studio co-produced Muppet Babies, the animated portions of Little Muppet Monsters, and the animated version of Fraggle Rock. The company's mascot, seen at the end of every Muppet Babies episode, was a CGI Spider-Man.
The company also produced animated adaptations of Marvel characters such as Spider-Man and the Incredible Hulk, as well as several Hasbro-toy based series, including The Transformers, G.I. Joe: A Real American Hero, My Little Pony, and Jem. The banner ended in 1993 when it merged with New World Television and became New World Animation; the remains of that division were eventually absorbed into Saban Entertainment and then Disney.
Ad blocker interference detected!
Wikia is a free-to-use site that makes money from advertising. We have a modified experience for viewers using ad blockers

Wikia is not accessible if you've made further modifications. Remove the custom ad blocker rule(s) and the page will load as expected.