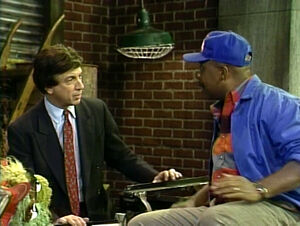 Marv Albert (born Marvin Philip Aufrichtig, 1941) is an American sportscaster. Known as "the voice of basketball", Albert had a long career at NBC and also TNT.
Albert appears on Sesame Street in episode 2756 where Oscar has given Gordon a ride to a Basketball game in his Sloppy Jalopy. They miss the game, and Gordon is upset until Albert comes by, gives him a ride home, and recaps the basketball game for him.
Albert has appeared as himself on Saturday Night Live and The Simpsons, and he is a favorite on Late Show with David Letterman, where he often brings along blooper tapes.
External links