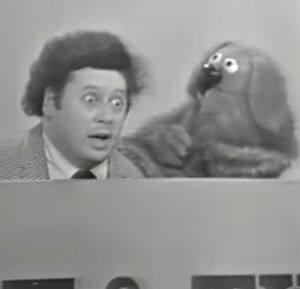 Marty Allen (b. 1922) is an American comedian. Recognizable by his wild hair and "Hello dere" greeting, Allen became a regular on Hollywood Squares, and the game show and talk show circuit.
Allen appeared with the Muppets on The Mike Douglas Show on the July 21, 1966 broadcast. For the opening gag, Rowlf introduced him as a friend who's shy and a little shaggy; instead of the expected Muppet, Allen pops up with a trademark "Hello dere." Later in the show, Allen talked with Rowlf and a Snerf, and played charades with Rowlf, Mike Douglas, Hermione Gingold and Freddie Garrity.
External links
Ad blocker interference detected!
Wikia is a free-to-use site that makes money from advertising. We have a modified experience for viewers using ad blockers

Wikia is not accessible if you've made further modifications. Remove the custom ad blocker rule(s) and the page will load as expected.