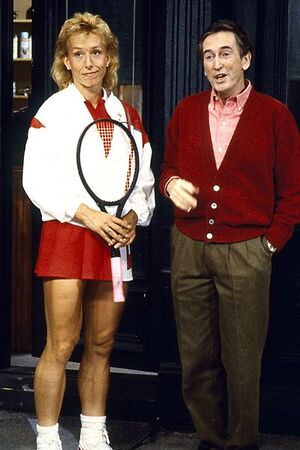 Martina Navratilova (b. 1956) is a Czech-born tennis player and former World No. 1 champion. She appeared in The Sesame Street Special, singing "The People in Your Neighborhood" with Bob. She also appeared in an insert in which Maria interviews her about her tennis match against Luis, demonstrating over, around, under, and through.
Her shirt and shorts from the appearance were auctioned on HeritageAuctions.com in 2013, selling for $358.50. The sales listing says that the visible Puma logos were colored over haphazardly. According to accompanying documentation, from when the Martina Youth Foundation previously sold the outfit, the segments were shot October 30, 1987.
External links
Ad blocker interference detected!
Wikia is a free-to-use site that makes money from advertising. We have a modified experience for viewers using ad blockers

Wikia is not accessible if you've made further modifications. Remove the custom ad blocker rule(s) and the page will load as expected.