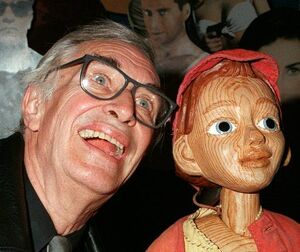 Martin Landau (b. 1931) is an Academy Award-winning film actor, whose gaunt face could connote both vileness and pathos. Landau portrayed toymaker Geppetto in the 1996 film The Adventures of Pinocchio, with the title character supplied by Jim Henson's Creature Shop.
In 1994, Landau received the Academy Award for playing Bela Lugosi in Tim Burton's film Ed Wood.
Landau's other credits range from James Mason's sinister henchman Leonard in Alfred Hitchcock's North by Northwest (1959) to Walks Stooped-Over in the epic Western spoof The Hallelujah Trail and Caiaphas in The Greatest Story Ever Told (both 1965), plus key parts in Woody Allen's Crimes and Misdemeanors (1988) and The X-Files (1997). Television credits include master of disguise Rollin Hand on Mission: Impossible (1966-1969) and guest spots on Columbo, Gunsmoke, The Outer Limits, and Without a Trace. Science fiction fans remember him best as Commander John Koenig on Space: 1999.
Landau voiced Mr. Rzykruski in Disney and Tim Burton's feature film Frankenweenie.
External links