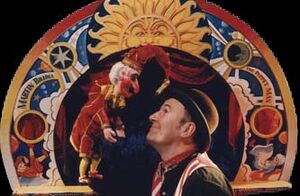 Martin Bridle worked for approximately seven weeks on the film Labyrinth. Bridle performed background goblins, worked as "helping hands" in the shaft of hands sequence, and did some operating on the one visible ear of Sir Didymus.
Credits
Labyrinth: Goblins and other assorted puppetry
External links
Ad blocker interference detected!
Wikia is a free-to-use site that makes money from advertising. We have a modified experience for viewers using ad blockers

Wikia is not accessible if you've made further modifications. Remove the custom ad blocker rule(s) and the page will load as expected.