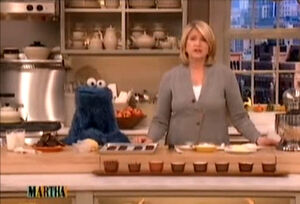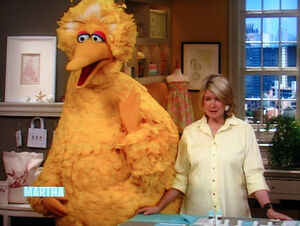 Martha is a television series hosted by Martha Stewart that debuted on September 12, 2005.
Appearances
Dates unknown
In a "best of" collection of clips, Elmo also appeared in the recurring "Petkeeping with Marc Morrone" segment and learned how to take care of his pet goldfish, Dorothy. Originally aired on Martha Stewart Living.
Trivia
While speaking at the 2008 Chicago engagement of Muppets, Music & Magic, David Rudman discussed Cookie Monster's appearance on the show, and stated he doubted they would be invited back, due to Stewart's displeasure of Cookie's behavior.
Ad blocker interference detected!
Wikia is a free-to-use site that makes money from advertising. We have a modified experience for viewers using ad blockers

Wikia is not accessible if you've made further modifications. Remove the custom ad blocker rule(s) and the page will load as expected.