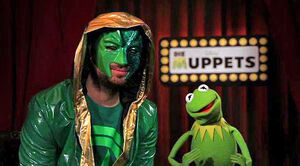 Marsimoto is the alter ego of Marteria, the stage name of German rapper Marten Laciny (b. 1982).
Marsimoto was created as a tribute to US rapper Madlib's alter ego Quasimoto; both are notable for their pitched voice. Due to the positive fan feedback, Marteria released several solo albums as Marsimoto, the latest one being Green Velvet.
To cross-promote Green Velvet, Marsimoto recorded a cover of "It's Not Easy Bein' Green" with Kermit the Frog, while the Muppet was visiting Berlin to advertise Die Muppets in January 2012.
External links
Ad blocker interference detected!
Wikia is a free-to-use site that makes money from advertising. We have a modified experience for viewers using ad blockers

Wikia is not accessible if you've made further modifications. Remove the custom ad blocker rule(s) and the page will load as expected.