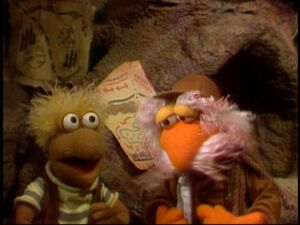 The Storyteller Fraggle tells the story of how young Matt Fraggle became an explorer like his Uncle Gobo and discovered radishes and the Gorgs.
Meanwhile, Doc loses his inventive touch when his cordless power generator doesn't work.
Supporting cast
Notes
This marks the first episode in the UK co-production of John Gordon Sinclair as P.K., the Captain's nephew. The year before, Fulton Mackay, who had played the Captain, died. His absence was explained by having the Captain return to his "first love" (the sea).
Songs
Video releases