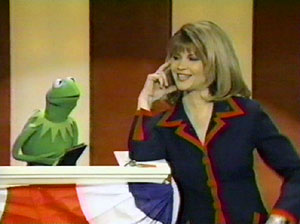 Markie Post (b. 1950) is an actress who became famous for her role as public defender Christine Sullivan on the TV show Night Court (first as a guest in 1984, then regularly from 1985 through the show's end in 1992).
On January 19, 1993, she hosted the Disney Channel's Inaugural Celebration for Children concert at the Kennedy Center in Washington, D.C.. The concert featured appearances by Bill and Hillary Clinton, Fred Rogers, and Raffi, as well as Kermit, Gonzo and Rizzo.
External links
Ad blocker interference detected!
Wikia is a free-to-use site that makes money from advertising. We have a modified experience for viewers using ad blockers

Wikia is not accessible if you've made further modifications. Remove the custom ad blocker rule(s) and the page will load as expected.