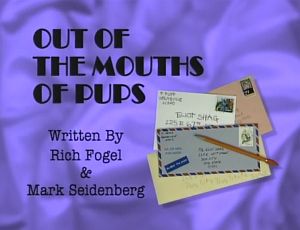 Mark Seidenberg is a writer, working mainly in animation, who with partner Rich Fogel co-wrote several fourth season episodes of Muppet Babies. They shared story editor credit as well. The team also scripted one second season Dog City episode.
Seidenberg wrote scripts for Hanna-Barbera series The Jetsons, Snorks, The 13 Ghosts of Scooby-Doo, Galtar and the Golden Lance, and The Smurfs (where he first teamed with Fogel). The pair went on to write two Flintstones TV movies and episodes of Adventures of the Gummi Bears, Goof Troop, RoboCop, and Captain Planet.
Without Fogel, Seidenberg wrote (and often story edited and produced) for DuckTales, Aladdin, Road Rovers, Histeria!, Mickey Mouse Clubhouse, and Jake and the Neverland Pirates.
Writing credits
External links