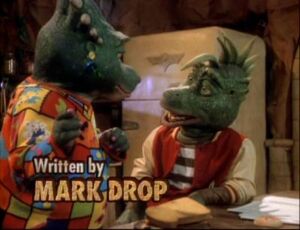 Mark Drop is a writer who scripted four episodes of Dinosaurs, beginning in the third season. For the fourth and final season, he was also story editor. More recently, he's also written episodes of the Jim Henson Company animated series Dinosaur Train.
Drop had been a writer for The Arsenio Hall Show. After Dinosaurs, he wrote episodes of Herman's Head and a string of short-lived sitcoms, including Something Wilder (a vehicle for Gene Wilder), Cleghorne! (with Alaina Reed as a regular), and Goode Behavior (starring Sherman Hemsley).
Drop co-wrote the script for the 1996 video game Toonstruck (with Christopher Lloyd as an animator trapped in a cartoon world). After that, he shifted to writing for animation and children's television, including Recess, Lloyd in Space, Dave the Barbarian, Kim Possible, Danny Phantom, Johnny Test, and the 2010 version of Pound Puppies. He's currently head writer for Jake and the Neverland Pirates.
Writing credits
External links
Ad blocker interference detected!
Wikia is a free-to-use site that makes money from advertising. We have a modified experience for viewers using ad blockers

Wikia is not accessible if you've made further modifications. Remove the custom ad blocker rule(s) and the page will load as expected.