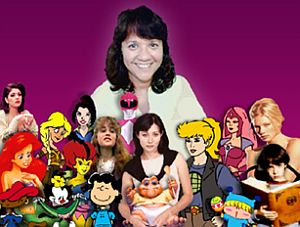 Marisa Leal (b. 1958) is a Brazilian voice actress who was heard in Família Dinossauros (the Portuguese-language dub of Dinosaurs) as Baby Sinclair. (listen here)
Leal's animation dub credits include Mulan, Ariel in The Little Mermaid, Dot in Animaniacs, Lucy in the Charlie Brown specials, Dewey in DuckTales, and Summer Gleeson in Batman the Animated Series. Dub roles in the live action realm include Mia Sara in Bullet to Beijing, Marisa Tomei in Anger Management, and Catherine Sutherland (as the Pink Ranger) on the Power Rangers franchise.
External links
Ad blocker interference detected!
Wikia is a free-to-use site that makes money from advertising. We have a modified experience for viewers using ad blockers

Wikia is not accessible if you've made further modifications. Remove the custom ad blocker rule(s) and the page will load as expected.